Description
A journey into Ferruccio Lamborghini's and Ettore Bugatti's world with Cristina.
An exclusive unordinary not-just culinary experience at Ferruccio's Corner (2 to 6 people)

from 11 a.m. to 3:00 p.m.
Cost per person Eur 50,00 all included
free cancellation up to 24 hours in advance
Highlights
This is a private activity. Only your group will participate. Ferruccio's Corner is located in the heart of the city, right on the main square. Sant'Agata Bolognese is based in a strategic area: between Bologna and Modena/Maranello (from Bologna 45 minutes, from Modena 30 minutes). Select the interview that you wish to watch:
1. exclusive unpublished interview with Ingrid Pussich, first secretary of Ferruccio Lamborghini;
2. exclusive unpublished interview with Gian Beppe Panicco, ex Bertone PR Manager;
3. exclusive and unpublished interview with Tester Loris Bicocchi, born in Sant'agata Bolognese.
You will enjoy an authentic Bolognese lunch in a special atmosphere that can hardly be described with words, it must be lived in person.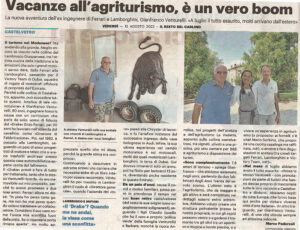 Click here for the english translation of this post
SAMPLE LUNCH
Cold cuts: mortadella, parma ham, ciccioli, 24 months aged parmesan cheese with DOP Balsamic vinegar served with a variety of local bread (gnocco)
Tortelloni with butter and sage or Gramigna with Bolognese sauce or Tortellini with fresch cream.  Second course.
Local wines
Coffee