SPECIALLY DEDICATED TO LAMBORGHINI, BUGATTI AND PAGANI ENTHUSIASTS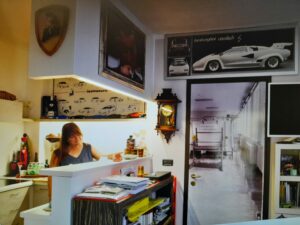 A magical and extraordinary not-just culinary experience at Ferruccio's corner
"Providing you with all the best for your pleasure"
Join Cristina at her newly established "Ferruccio's Corner" in Sant'Agata Bolognese, city of Lamborghini.
You will enjoy an authentic Bolognese lunch in a special atmosphere that can hardly be described in words, it must be certainly lived in person.
Get ready for a relaxing and unforgettable sensory experience that you will never forget! (food in collaboration with Antica Osteria Degli Angeli: passion translated into english, french, and german by Cristina)
WELCOME COFFEE AT FERRUCCIO'S CORNER WITH CRISTINA FOR ALL LAMBORGHINI FRIENDS
Are you a supercar aficionado or part of the supercar story?
The passionate world of the supercar is a place where art, science, technology and tradition mix to create legends, myths and heroes. It is a realm shrouded in secrecy and rumors.
Few people know the truth behind the myths. Fewer still have witnessed these legends and walked among these heroes.
Cristina Guizzardi is one of those few.
Born in Sant'Agata, under the sign of the bull, Cristina is a part of the fabric that weaves the supercar world together. From the moment Cristina first heard a Lamborghini engine roaring down Via Modena as a young girl (aka the Valentino Balboni Highway), her story has intertwined with that of Lamborghini and the world of supercars. Cristina spent six years at Bugatti, and almost 20 years at Lamborghini.
Cristina was there when the first Bugatti EB110 engine sparked to life. She has written books about Bob Wallace, Aligi Alberghini, Ingrid Pussich, the Miura, the Trio of the Bull. She has spoken in documentaries and is the go to resource for people seeking knowledge about Lamborghini and Bugatti. There is no person more knowledgeable to recount its story in the Motor Valley.
Cristina invites you, and up to nine of your friends, to join her in Sant'Agata, at what she calls her "Ferruccio's Corner". Here you will have a rare opportunity to hear her memories and have a conversation that dives into the Myths and Legends of the supercar world.
During the conversation you will view an exclusive filmed interview that takes you through the history of Lamborghini and/ or Bugatti, All of this while enjoying a light lunch of home made pasta and some Cristina's favorite Bolognese selections accompanied with local wine.
Though too modest to ever admit it, Cristina is part of the supercar legend. This is not only a chance to hear the story directly from her, but a chance for you to become part of the legend.
These books are actually out of stock

Do you need a different or personalized quote?

contact us for any special request!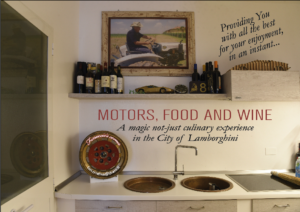 For our culinary activities our partner is Osteria degli angeli